The Global Music Business:
20+ Data Sources
Music Platforms
Spotify, Apple Music, Amazon Music, YouTube, Deezer, SoundCloud, iTunes, Beatport, QQ Music, Last.fm
Social Platforms
TikTok, Instagram, Facebook, Twitter, Shazam
Lyrics, Live, Mass Media
Wikipedia, Genius (lyrics), Songkick (live concerts), RadioWave (Top 300 US stations), Tunefind (TV/film sync), TV Maze (US TV appearances)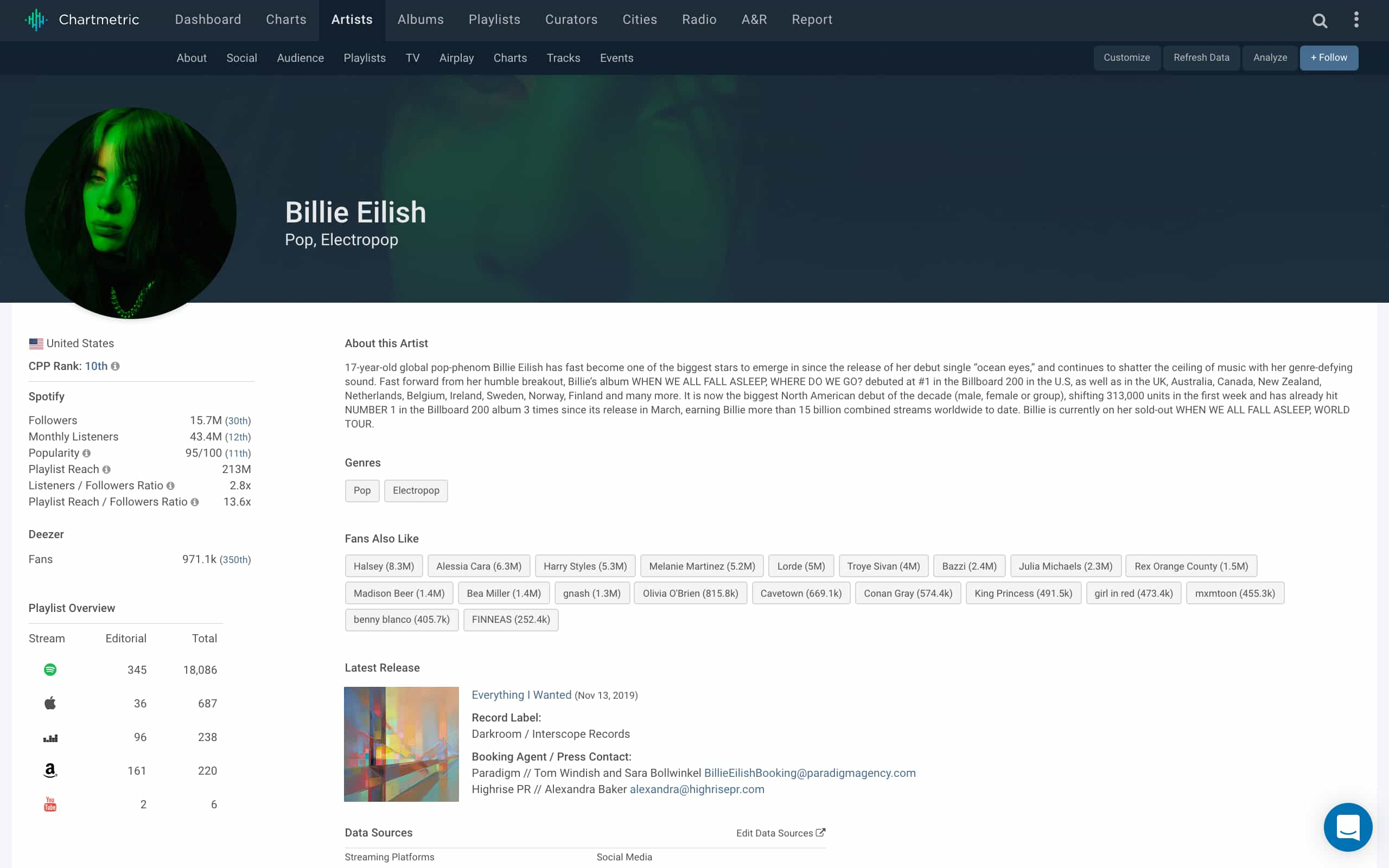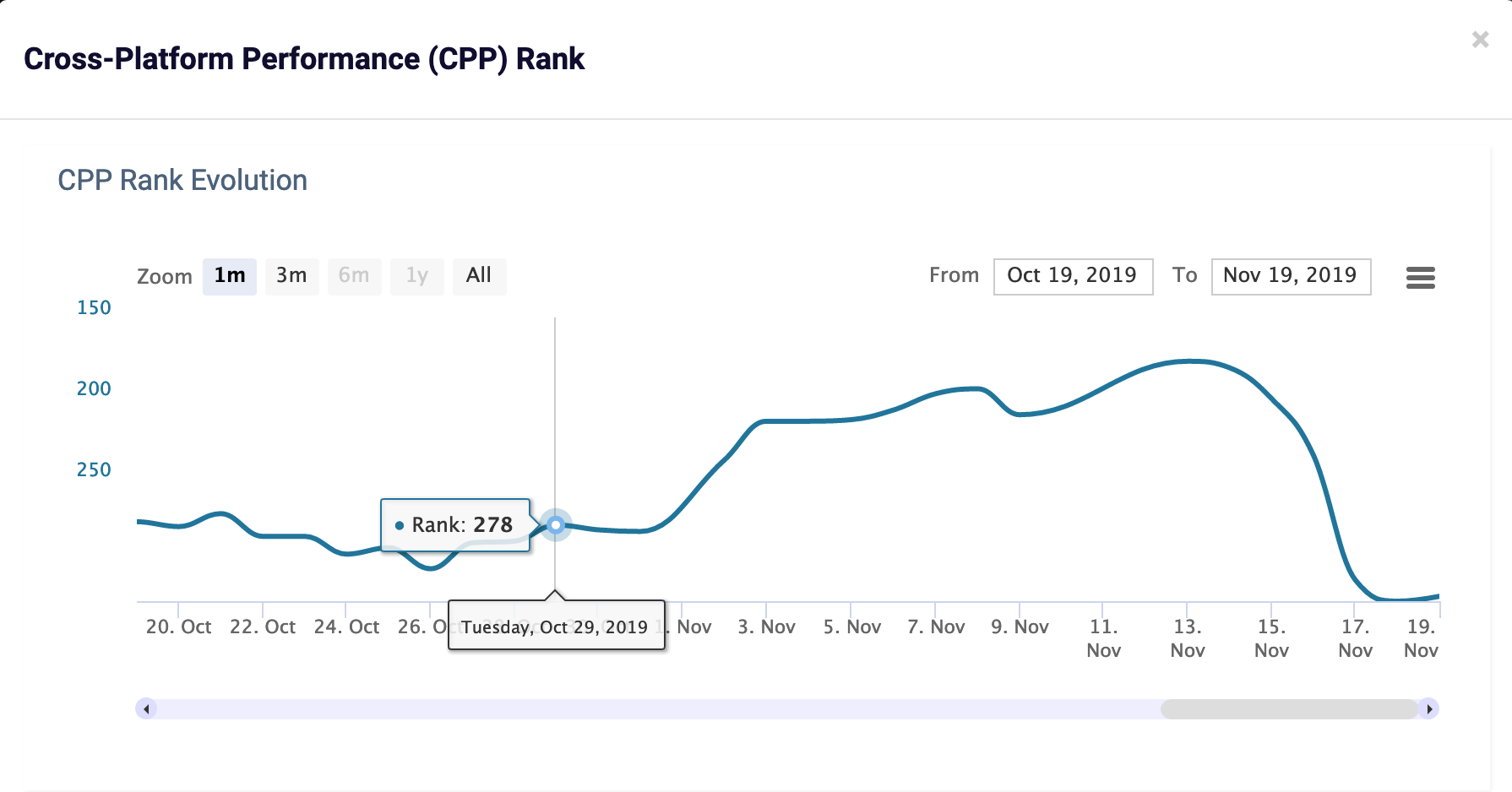 Cross-Platform Performance (CPP)
Cross-Platform Performance (CPP), Chartmetric's proprietary ranking system, scores our entire database of artists and 9 different streaming/social platforms to compose a comprehensive look at popularity in the world.
Today's music environment is fractured with different audiences, so to help put that into perspective, CPP rankings are dynamically refreshed every 24 hours and constantly refined to be sensitive enough to reflect cause and effects of whatever you do in your artist's career.
Artist Profile
One of the most popular Chartmetric pages: focus on one artist's digital life through monitoring their tracks, albums, concert data, sync placements, streaming and social KPIs, chart performance, audience demographics, and much more.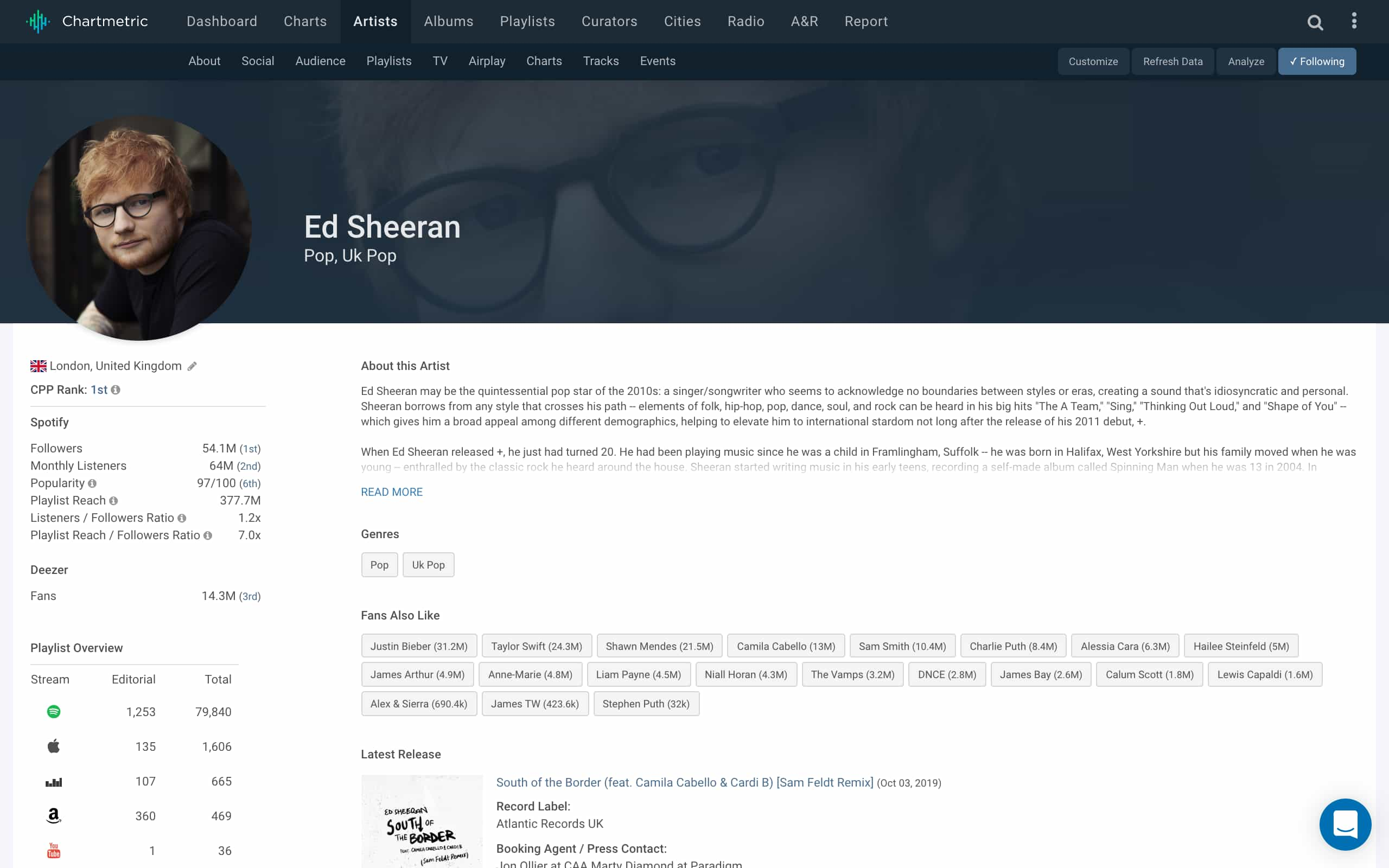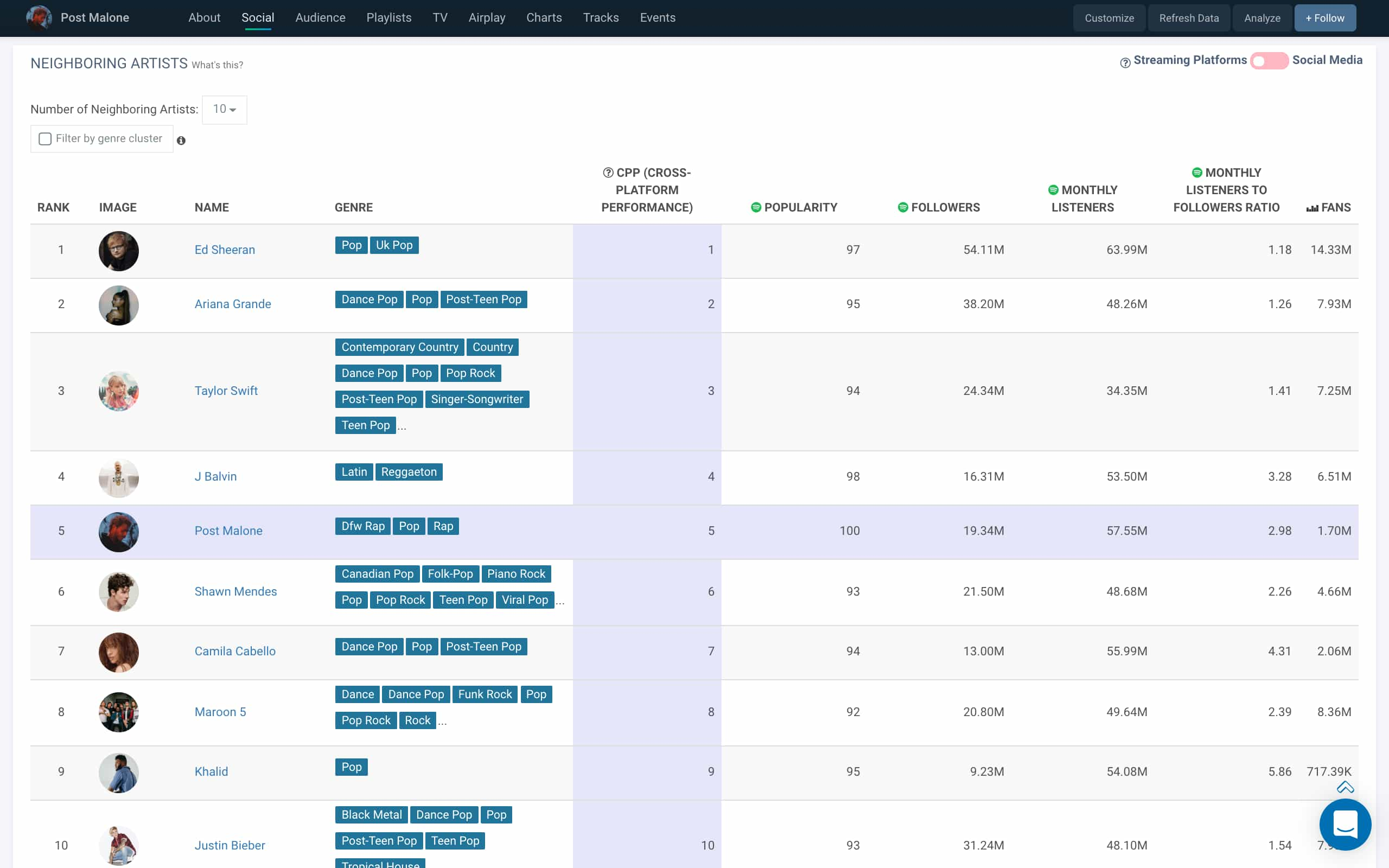 Neighboring Artists
Ever wonder how your competition is doing? Or maybe you're looking for a collaborator in a similar career stage to work with for your next project?
Instantly find artists with similar metrics across any of our data sources, filtering by similar genre or not.
Playlist Journeys
Tracks have a life of their own in the streaming world, and we're checking their passports.
Focus on any playlist of interest, and use the Look Back function to see other playlists common tracks were added to before, sorting by common track overlap or follower count. Use the Look Ahead function to see where common tracks were added to after.
Playlists may have relationships that could be beneficial to your overall strategy...explore those here.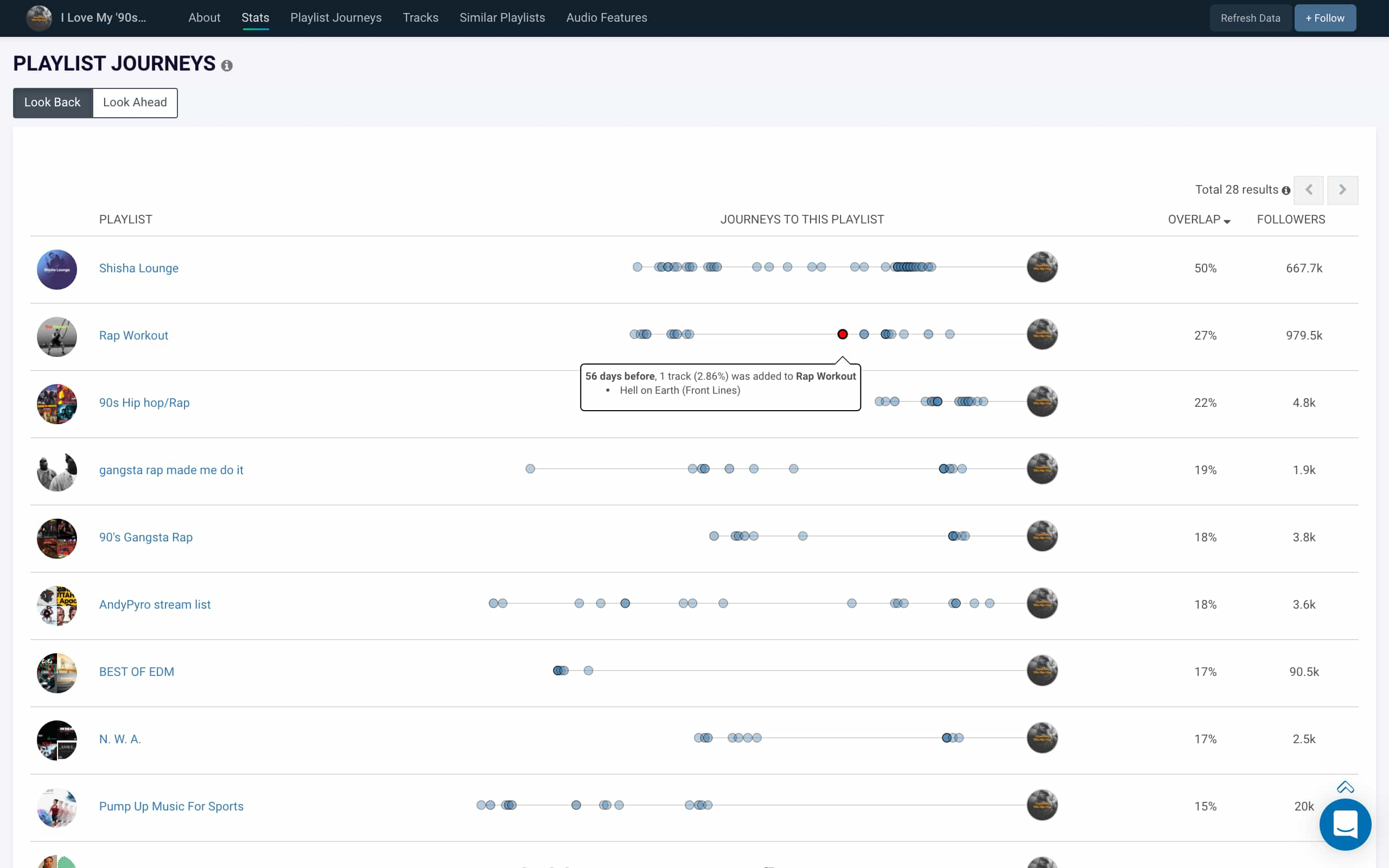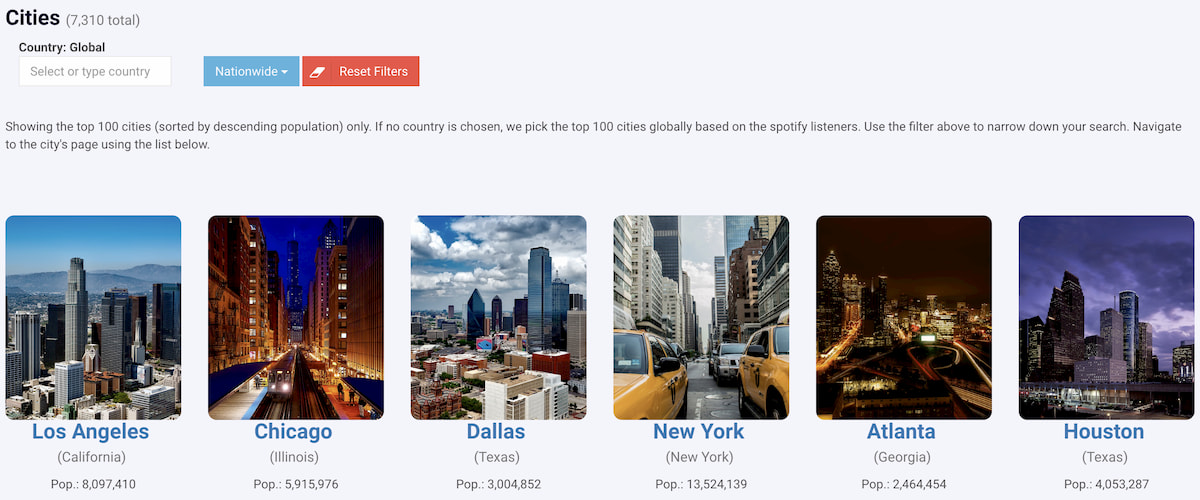 Cities Page
Explore what music is popular in certain cities. Need to route a college tour or better target social media spend?
Collecting the localized listening preferences of 7.3K+ cities worldwide, we display more than 10 panels of data from Top Artists by Spotify Monthly Listeners to Top Tracks by YouTube Views, Top Genres by Shazam Count, and more.
Instagram Follower Demographics
View demographics by gender, age, engagement rates, average likes/comments/views per post, language, ethnicity, fan location, top countries/cities, brand affinities, popular mentions/hashtags, and notable followers so you can better promote and connect on social media!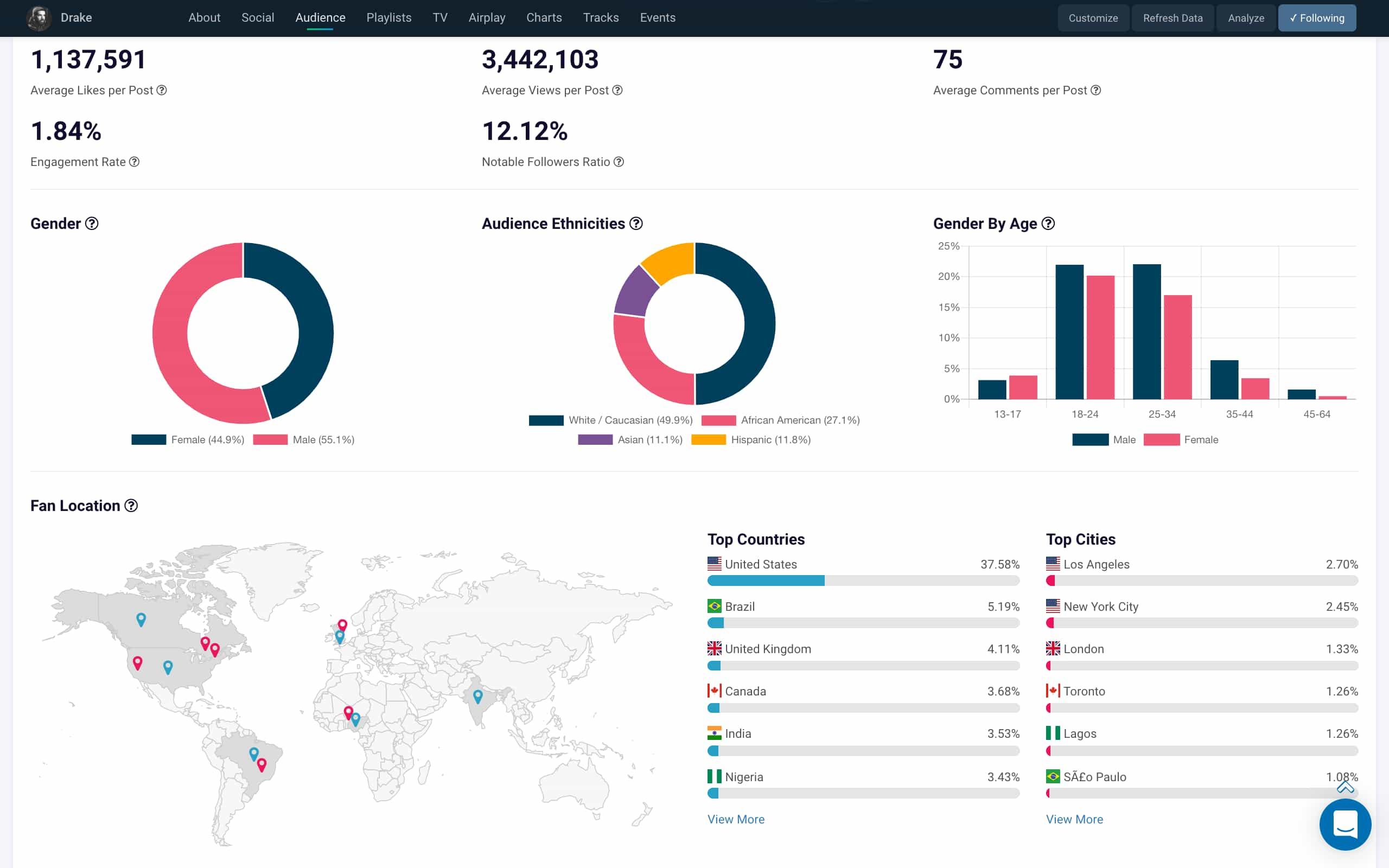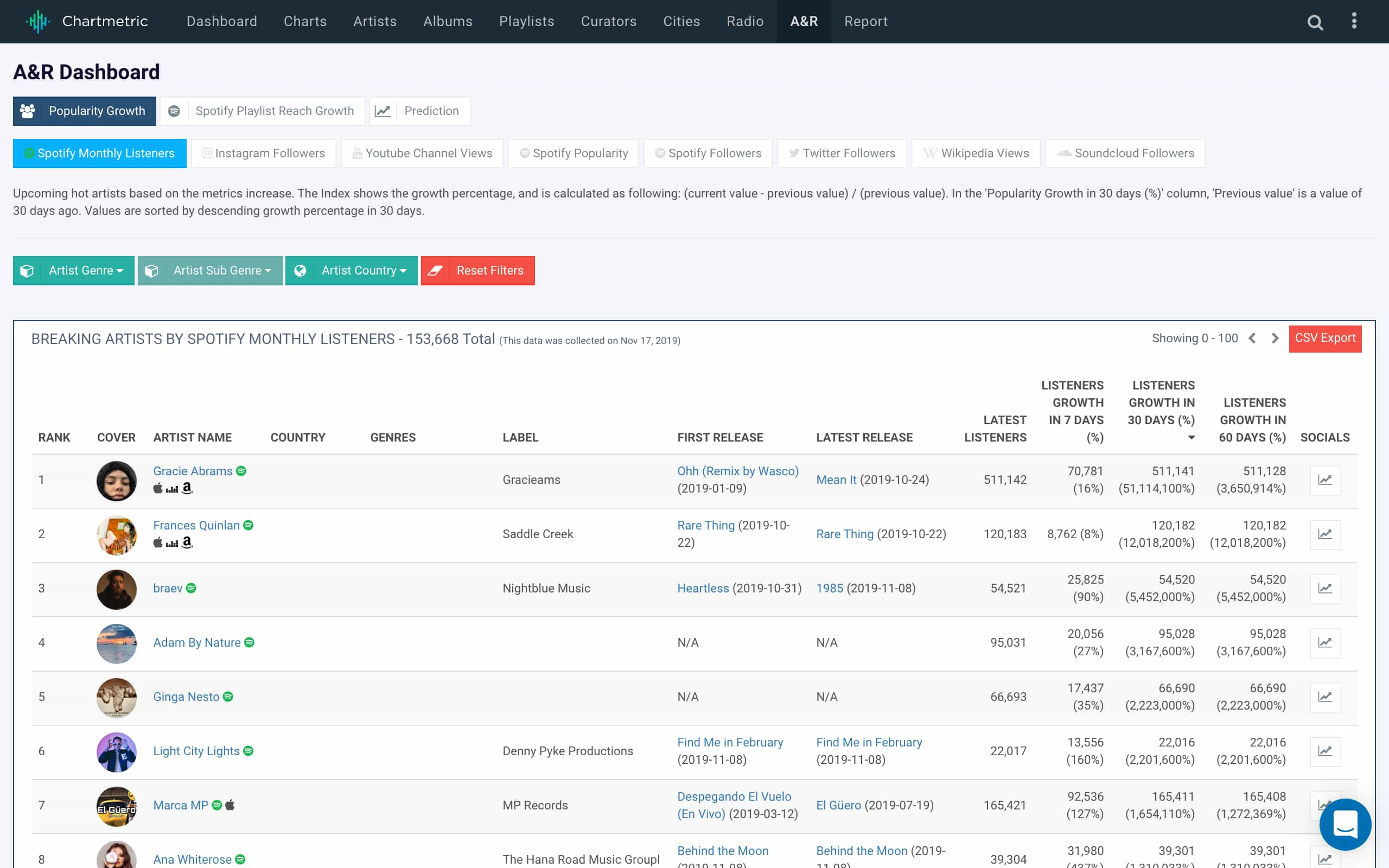 A&R Tools
Seeking fresh talent? We visualize to make it easy to see who's trending over time recently. Discover new talent by filtering/sorting through Chartmetric's entire playlist database; key in on over-indexing artists in social media on YouTube, Instagram, Facebook, Twitter, Wikipedia, SoundCloud and Spotify.
Use our data-science-driven Prediction Tool to generate shortlists of trending artists for you to review for true artistic quality and fit.
Charts List
20+ artist/track/video-level charts from Spotify, Apple Music, Amazon Music, Deezer, YouTube, Beatport, Shazam, iTunes, SoundCloud, QQ Music and Chartmetric, covering dozens of markets around the world.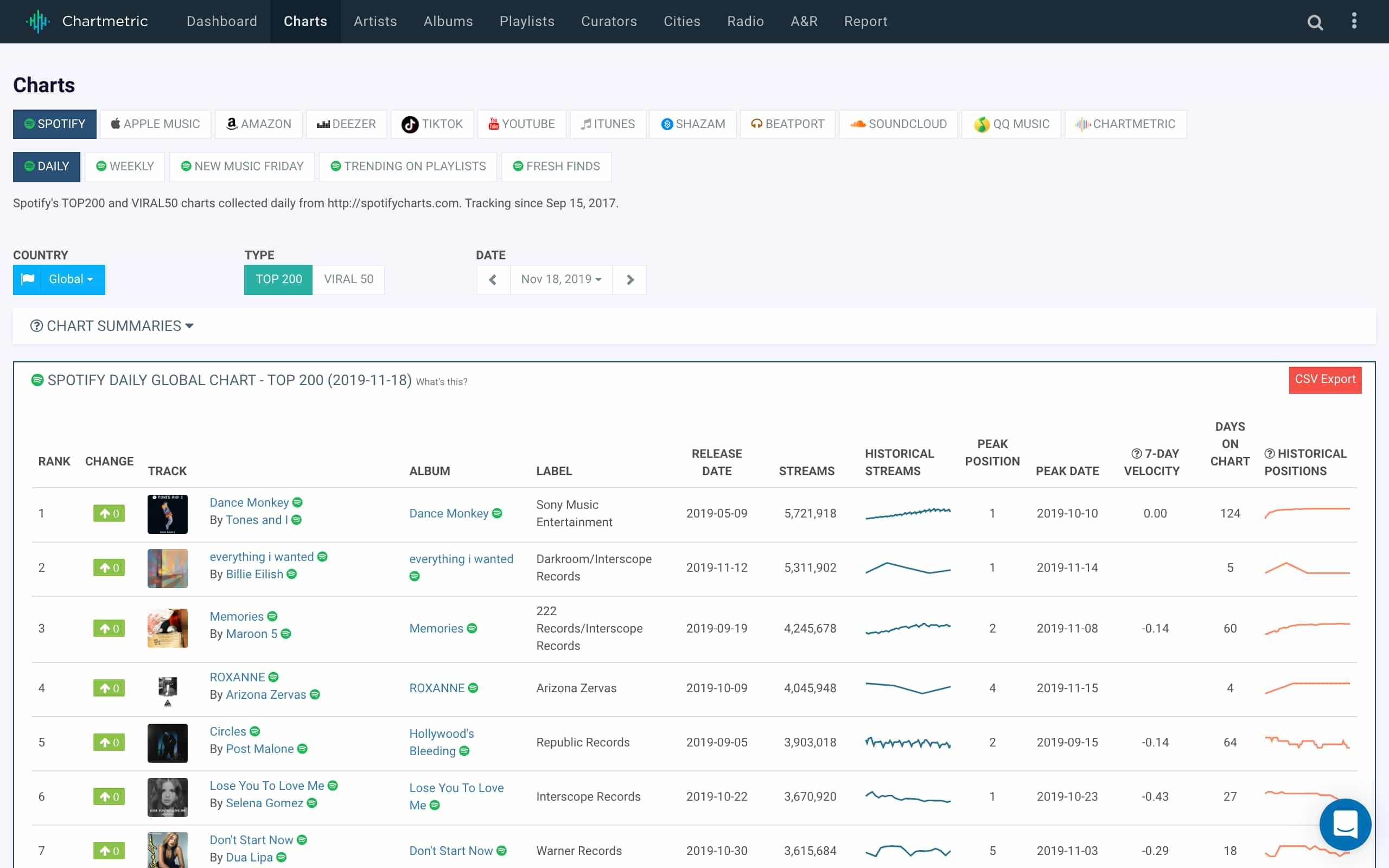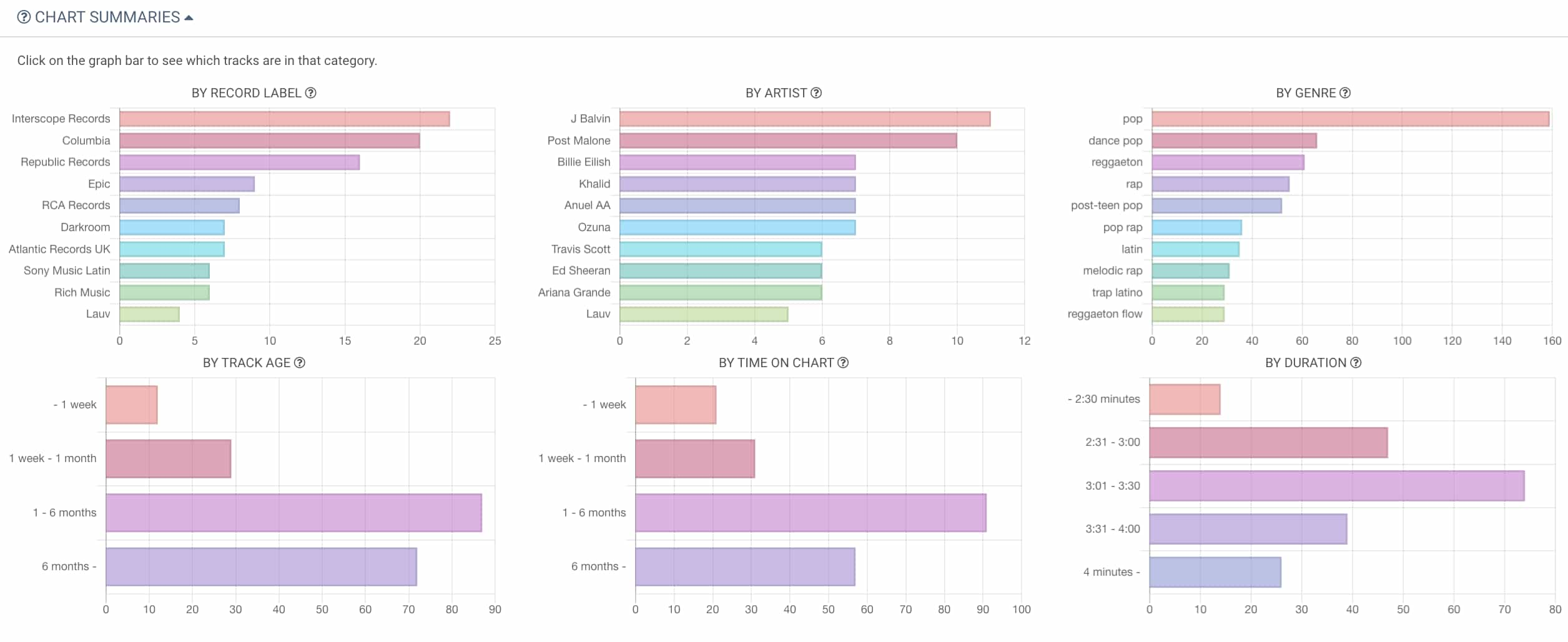 Chart Summaries
Chart Summaries is a way to boil down all of the many music charts out there and understand their DNA dynamically. Choose the day, the week, the country, the genre…it's all here.
Who's on top? Which label is performing the best today? Do longer or shorter songs shine on this platform? Does it favor catalogue tracks, or frontline fare? Do most tracks show a longer or shorter playlist shelf life?
When you better understand the unique tendencies of each platform's audience, you can better target your music distribution and get to your fans more efficiently.
Advanced Artist Filters
Advanced Spotify filters allow you to surgically filter artists for potential discovery and research.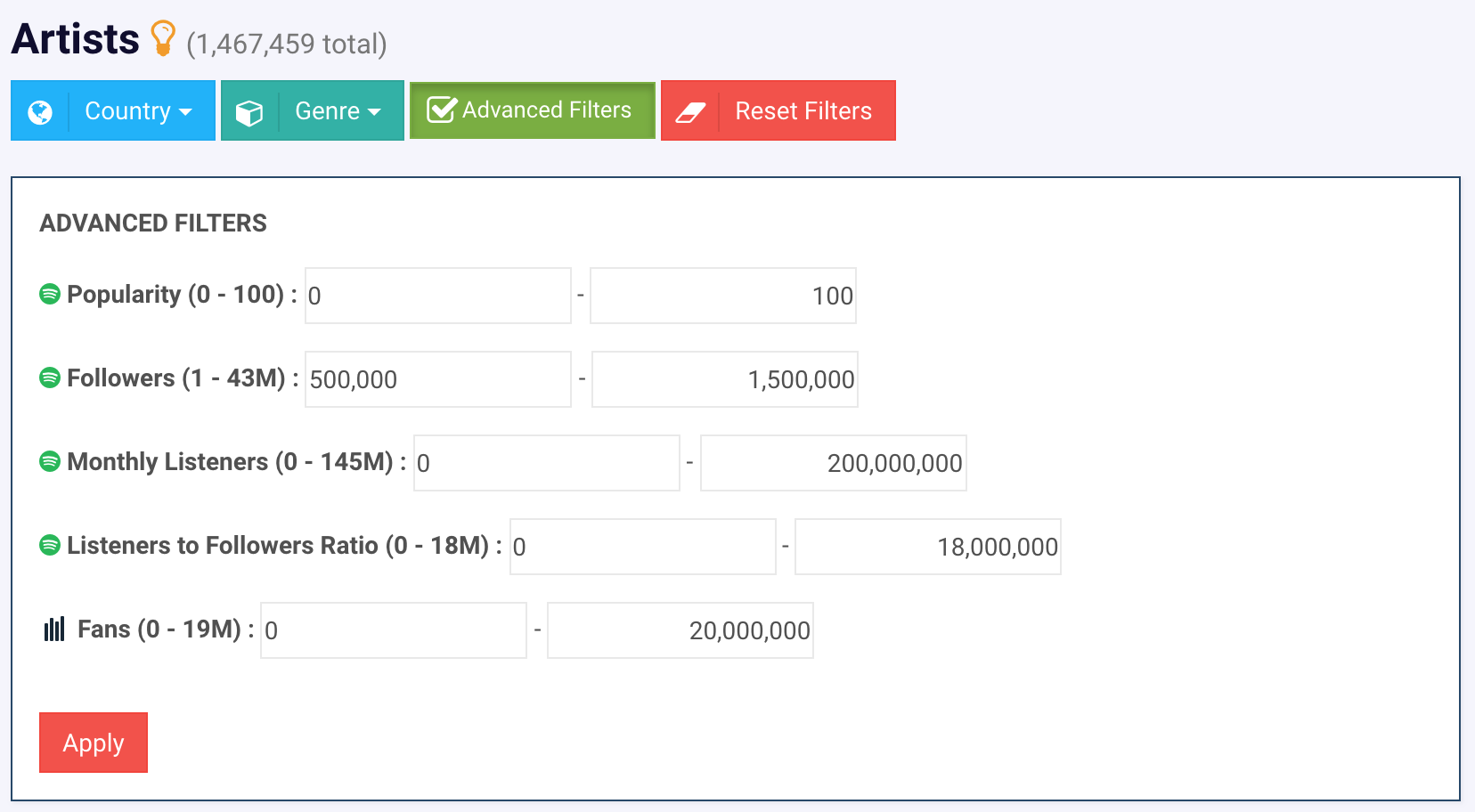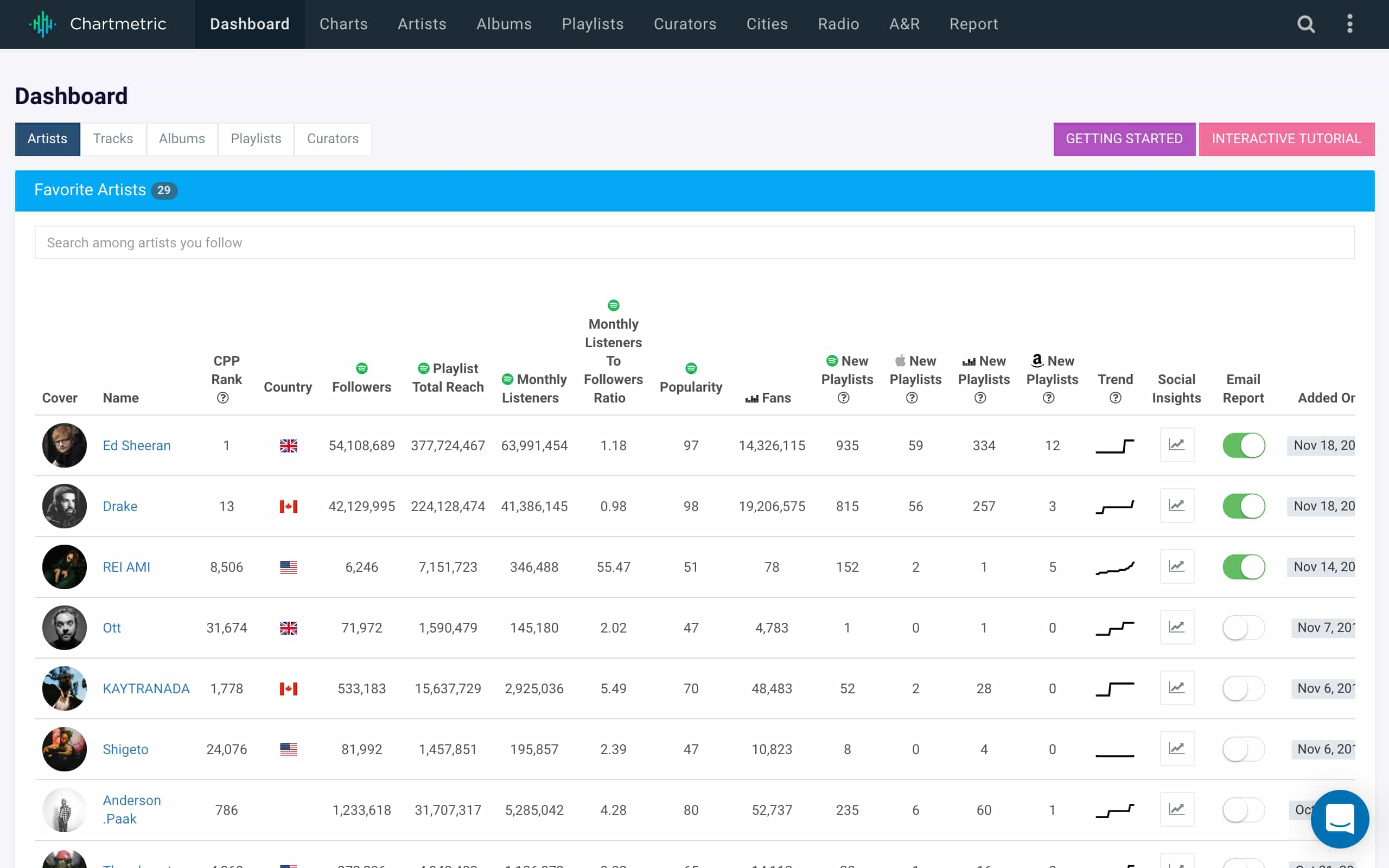 Dashboard
Load Key Performance Indicators (KPIs) for your favorite artists, tracks, albums, playlists, and curators right when you log in.
View easy-to-understand percentage changes over time with 30 and 60-day social insight pop-ups, and sort up and down to see who or what is excelling where.
Track Profile
Know a specific track/ISRC intimately: editorial and total playlist counts and history, charting history from multiple platforms, musical trait ratings (e.g., BPM, Energy, key) and more.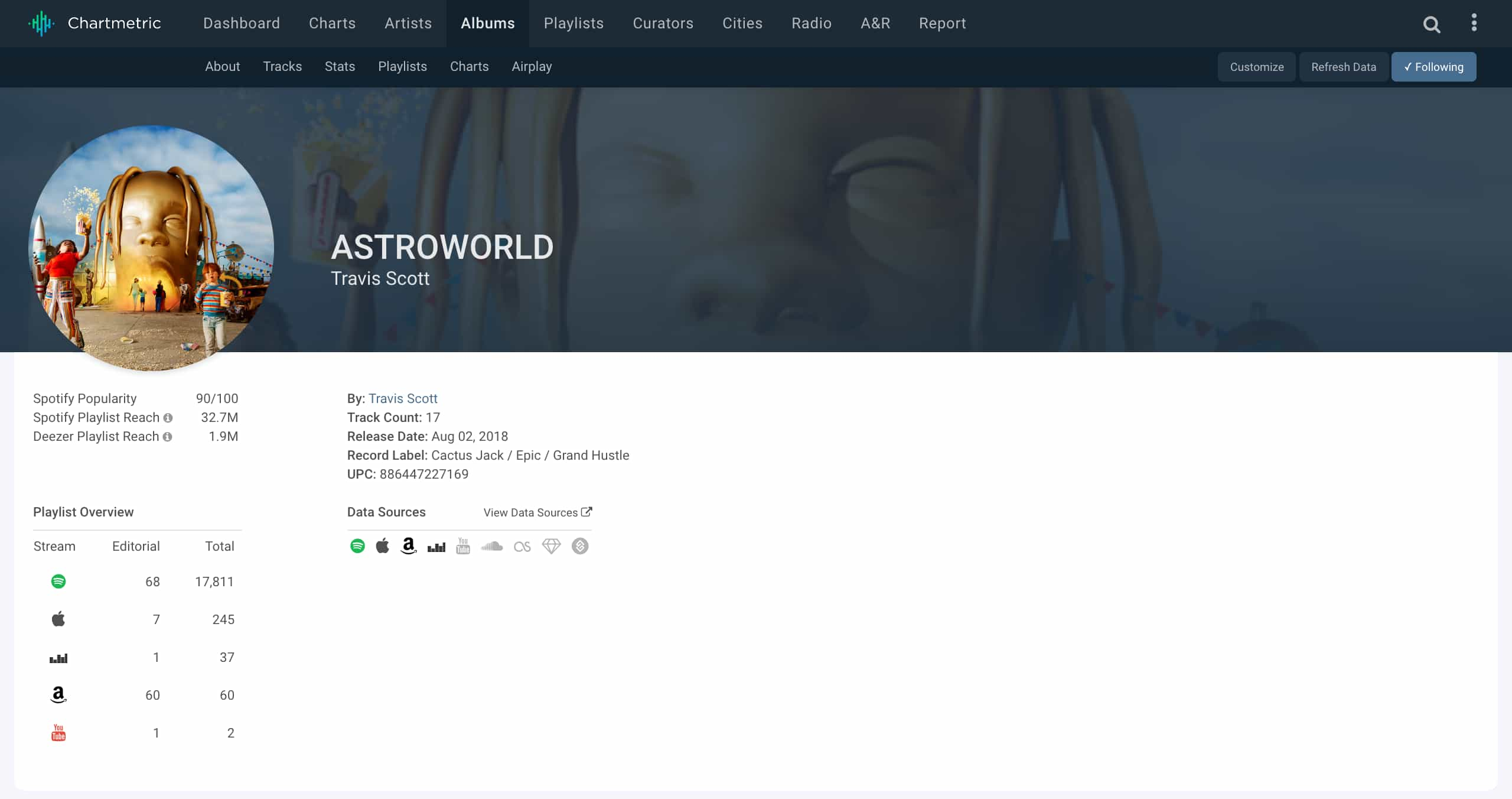 Album Profile
Track an album's movements with playlist histories and metrics across our streaming platforms.
Playlist Profile
Decode a playlist's DNA with Follower counts, track titles and counts, record label ownership, track genres, artist countries, current tracks, and acoustic characteristics (e.g., acousticness, BPM, energy, danceability) and more; Get Similar Playlists recommended through collaborative filtering.

Playlist Time Machine
Playlists change over time...every day. Ever wonder what a playlist looked like on a different date than today? Need to do some historical analysis?
Use a simple drop-down menu to look at past playlists' content, some all the way back to late 2016.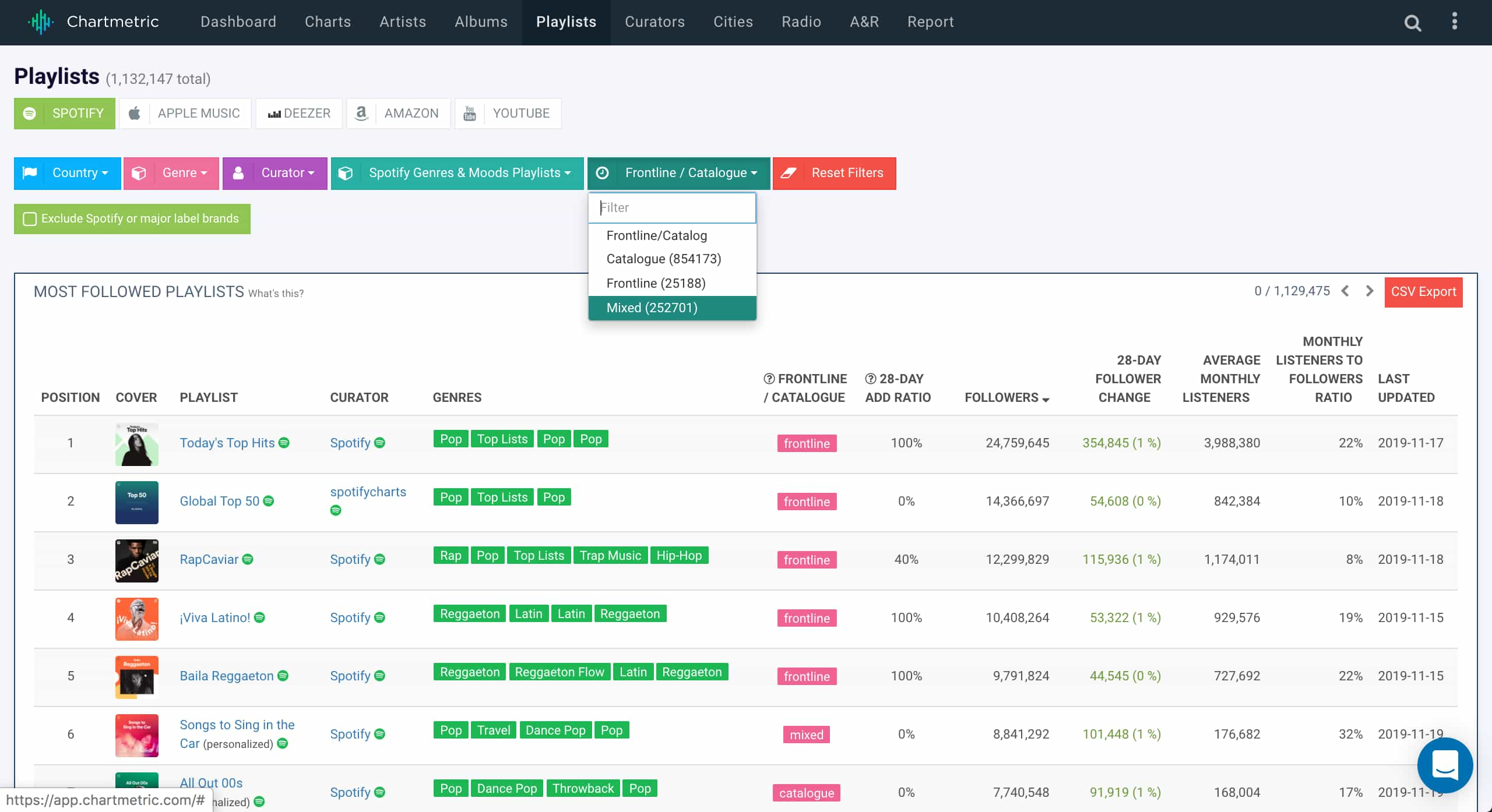 Playlists by Frontline or Catalogue
Across our Playlist List, and on every Playlist Profile, we identify playlists that are feature newer content (Frontline) or older (Catalogue). Sort and filter them to better understand how to pitch your songs and use the "28-Day Add Ratio" to understand how often a playlist gets changed up by its curator.
Conserve your playlist pitching resources for ones which you have the best chances for.
Curator Profile
Understand the people behind the playlists...includes all of our Playlist Profile information across all of the curator's playlists.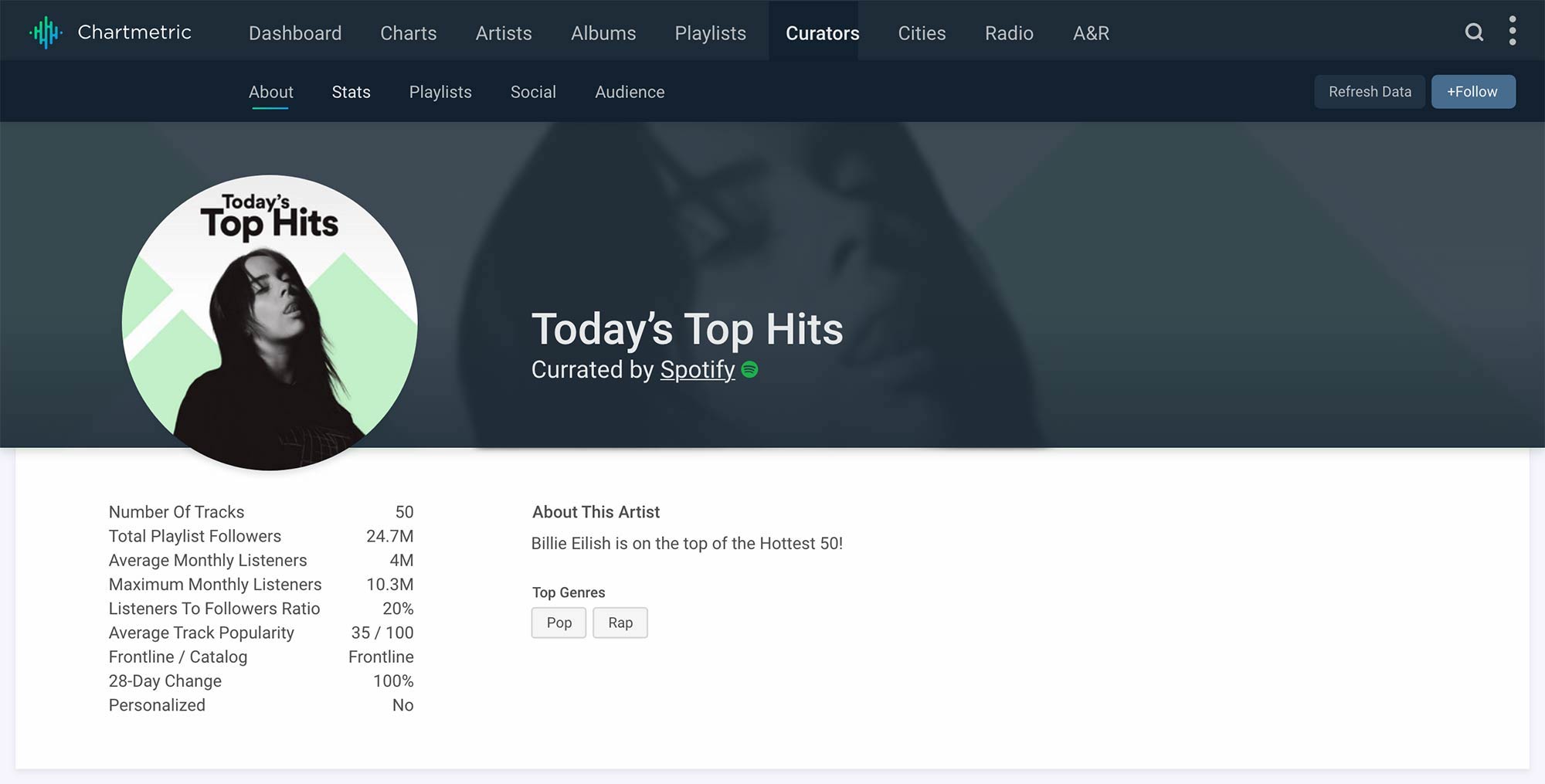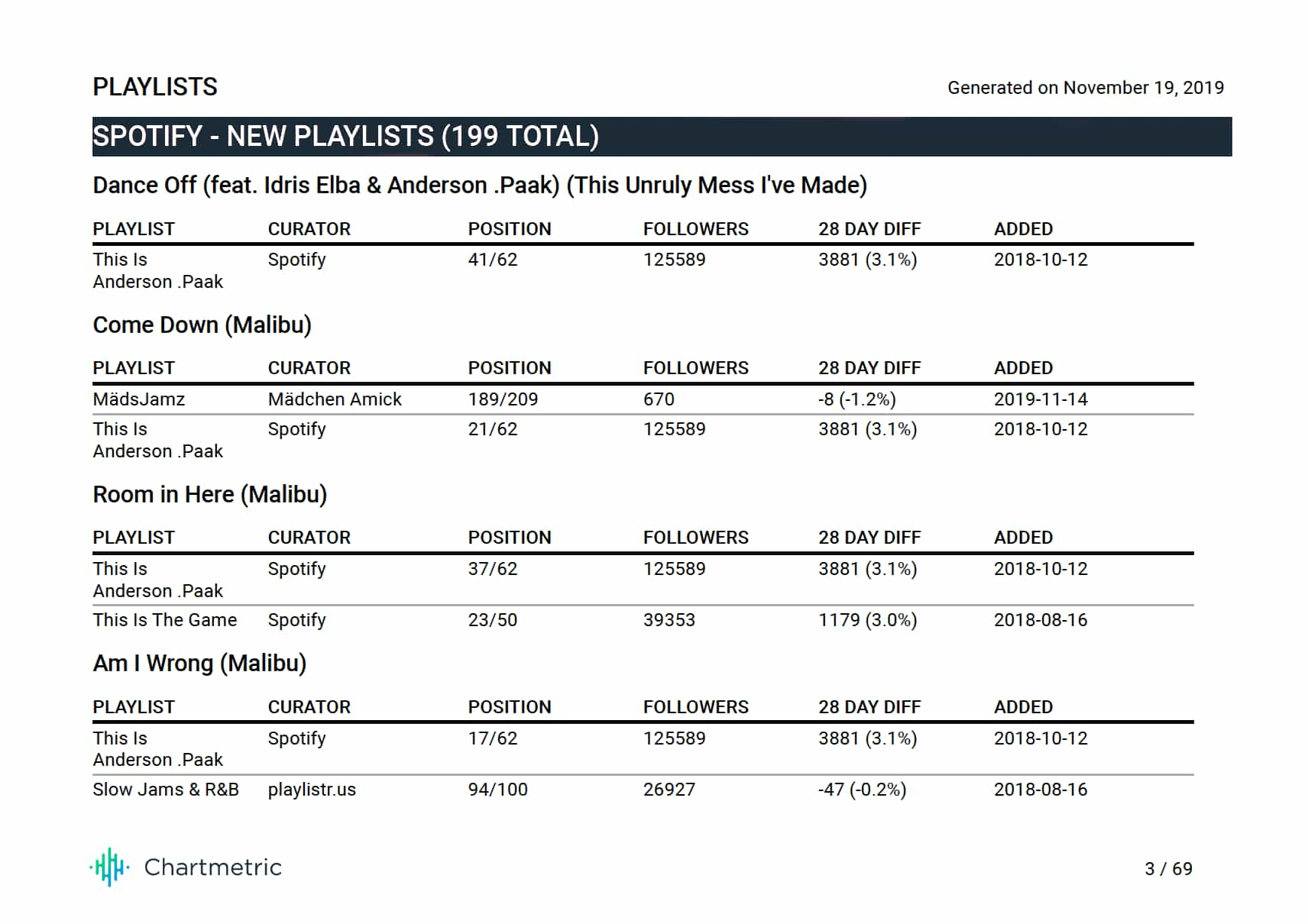 Custom Reports
Updating another executive or client? Want to tailor what statistics they see without spending hours compiling an accurate and readable deliverable?
Easily export customizable PDF and CSV reports on your favorite artists/tracks/albums by your preferred time periods with the Chartmetric data of your choice.
Exportable Data Tables
Need to deliver a quick chart to a colleague or an Excel/Google Sheet/Numbers spreadsheet for your own analysis? Easy.
Exportable visuals (PDF, JPEG, PNG, SVG) and data tables (CSV, XLS) are available at your fingertips.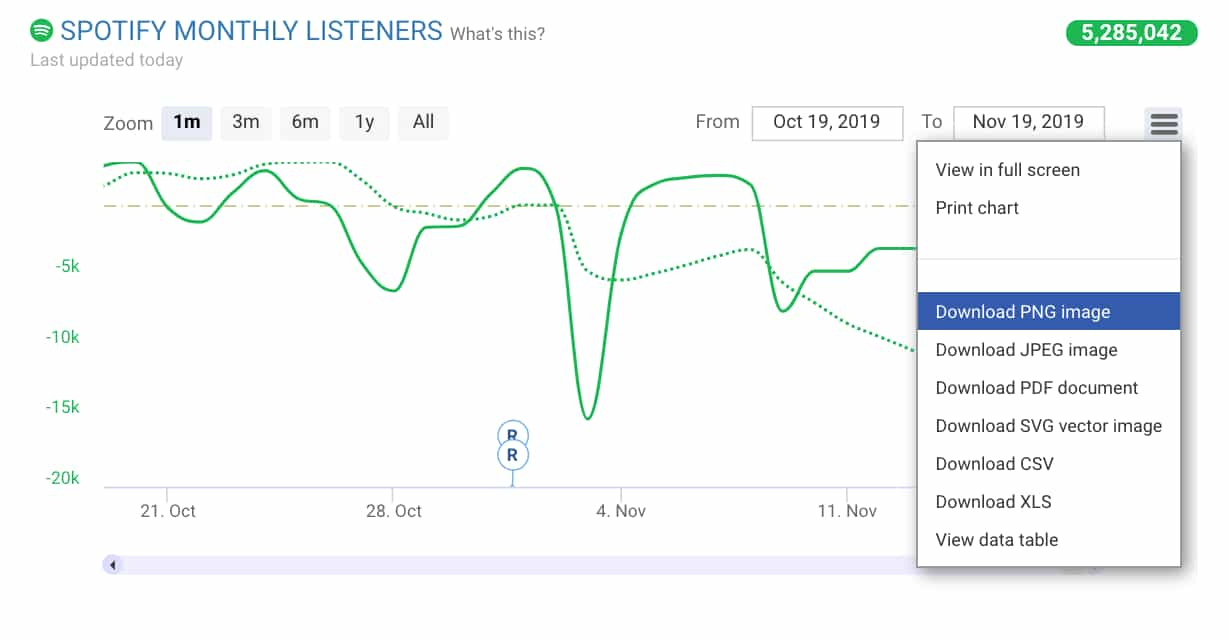 Custom Chart
Manage a large roster or want to do a unique comparison between artists and their various statistics?
Plot any grouping of artists' Chartmetric data to make custom data comparisons specific to your needs...analyzing Artist A's Instagram followers v. Artist B's YouTube Views v. Artist C's Spotify Popularity Index? No sweat.